As Judge Strikes Down AR, KY Work Requirements, Consumers In Other States Brace For Their Own
By Consumers For Quality Care, on April 3, 2019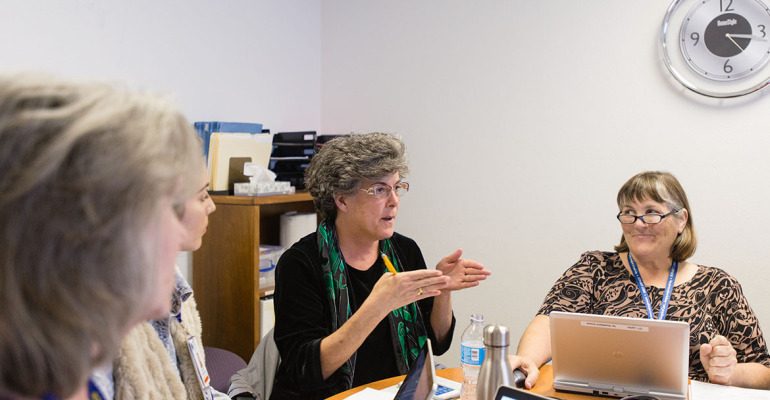 Photo by Heidi de Marco/KHN
In New Hampshire, some residents are anxiously preparing for the state's Medicaid work requirements to take effect this June. The change, which will impact 50,000 residents, requires that New Hampshirites work at least 100 hours to qualify for Medicaid or risk losing coverage as soon as August.
The change could mean that residents like Mary Pellerin lose their health insurance, NHPR reports. Pellerin recently attended a class at her local parks and rec building, in hopes of better understanding how to protect her coverage under the new requirement.
"I want to make sure that I do my record-keeping correctly so it doesn't come back to bite you if you have to prove how you came up with your hours."
Pellerin, a self-employed seamstress, hopes that the hours she spends working will cover the state's new requirement – which counts hours spent having a job, being a student or care taker, or volunteering. Pellerin is nervous because she does not have company checks or paystubs to prove her hours, other than her own bookkeeping, and wants to make sure she can log her hours accordingly. She has Crohn's disease, which makes regular work difficult at times and her insurance coverage crucial.
While the requirement's supporters say that it will encourage able-bodied individuals to lift themselves out of poverty, Pellerin disagrees.
"I wonder how many people were hired to keep track of all of us, keep track of the paperwork, how many other bits of office, how much money is being spent for this thing that looks good on paper but doesn't seem very well thought out?"
Others in the state have questioned the work validity of the work requirement, too. Four New Hampshire residents, represented by The National Health Law Program (NHeLP), have filed a lawsuit against the Trump administration for approving the requirements. NHeLP is arguing that the administration can't approve the requirements they contradict the purpose of Medicaid, according to The Hill.
"This approval will not promote coverage, but it will result in significant coverage losses, and that is the administration's goal – to weaken the Medicaid program and cull people whom it deems unworthy from it," NHeLP legal director Jane Perkins said in a statement.
However, this week brought good news for consumers facing work requirements in Arkansas and Kentucky and those hoping New Hampshire's lawsuit will be successful. U.S. District Judge James Boasberg struck down the work requirements, arguing in his decision that the approval of the requirements "is arbitrary and capricious because it did not address … how the project would implicate the 'core' objective of Medicaid: the provision of medical coverage to the needy." The decision marks the second time in nine months that the Trump administration's work requirements have been struck down.
Consumers in New Hampshire and elsewhere around the country are watching the lawsuits for a sign of what might come next. The administration has approved work requirements in eight states, including Ohio. Ohio would require 20 hours of work a week for individuals covered under the state's Medicaid expansion. The Ohio work requirement is expected to cost the state $28 million over two years, according to State News. Seven additional states are currently considering work requirements. In Idaho, lawmakers are considering legislation that would add a work requirement to the state's Medicaid expansion.
Consumers for Quality Care has previously highlighted the negative impact of work requirements on low-income Americans. In 2018, CQC Board Member Donna Christensen issued a statement against the Trump administration's move to allow the requirements.