Consumers Could Save Money By Avoiding Convenience Drugs
By Consumers for Quality Care, on August 29, 2018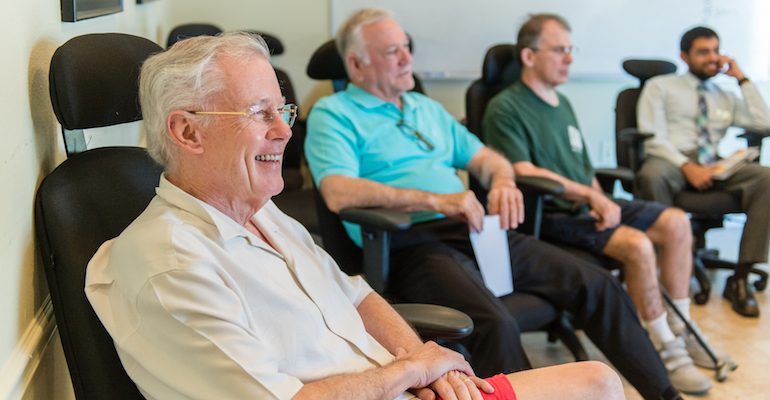 Photo by Heidi de Marco/KHN
A new group of drugs may be unnecessarily costly for consumers. The drugs, nick-named "convenience drugs," combine the ingredients of two common, generic medications to create a more expensive alternative. Axios found that many convenience drugs could be replaced by a combination of generics and over-the-counter medication for around $20.
A few examples of convenience drugs are:
Duexis, made by Horizon Pharma: $2,482 for a 90-pill bottle
Vimovo, made by Horizon Pharma: $2,482 for a 60-pill bottle
Treximet, made by Pernix Therapeutics: $880 for a 9-pill bottle
Caduet, made by Pfizer: $580 for a 30-pill bottle
ProPublica's Marshall Allen first came into contact with convenience drugs after a visit to an orthopedic specialist.
As Allen left the doctor's office, a nurse handed him a sample of a drug called Vimovo, saying the samples should hold him over until his prescription arrived from a mail order pharmacy. According to ProPublica:
Vimovo was created using two readily and cheaply available generic, or over-the-counter, medicines: naproxen, also known by the brand Aleve, and esomeprazole magnesium, also known as Nexium. The Aleve handles your pain and the Nexium helps with the upset stomach that's sometimes caused by the pain reliever. The key selling point of this new "convenience drug"? It's easier to take one pill than two.
Allen's insurance was charged $3,252 for the Vimovo.
While the creators of Vimovo say that the price is justified by its value, critics say that Vimovo isn't actually superior to the two individual medications.
 [S]everal experts said that's a scientific distinction that doesn't make a therapeutic difference. "I would take the two medications from the drugstore in a heartbeat — therapeutically it makes sense," said Michael Fossler, a pharmacist and clinical pharmacologist who is chair of the public-policy committee for the American College of Clinical Pharmacology. "What you're paying for with [Vimovo] is the convenience. But it does seem awful pricey for that."
Allen's doctor admitted that he wasn't aware of how expensive the drug was.
Ramani didn't know the price of the drug and found it "disturbing" when I told him. That was a surprise to me, but not to him. He said he leaves billing to his staff and doesn't even know how much he gets paid for a lot of the procedures he performs, let alone how much insurers are being charged for drugs.
This cost-blindness in physicians is common. Doctors may be prescribing a drug that they think will be more convenient, without understanding what that convenience truly costs. Consumers should speak to their doctors and pharmacists to see if there are cheaper alternatives – such as taking two separate drugs – that would be equally effective.
One pharmacist highlighted the price difference between a convenience drug and their alternatives plainly:
"It's certainly not worth $580. I'd gladly swallow twice," Michael Rea, a pharmacist who started Rx Savings Solutions to help employers with drug spending, said of Caduet, which treats high blood pressure.