Consumers Lose When Hospitals And Insurers Agree To Secret Contracts
By Consumers for Quality Care, on September 21, 2018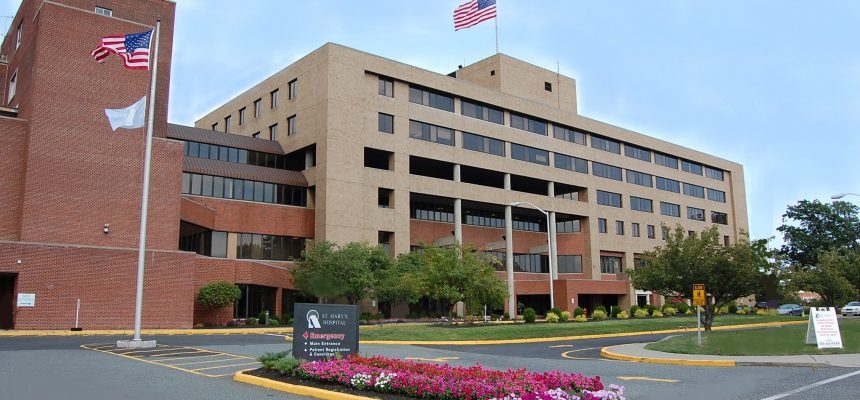 A story in the Wall Street Journal reveals large hospitals and hospital systems have been using secret contracts with insurance companies to restrict cost saving opportunities for consumers. Hospitals do anything from demanding insurers include their facilities in insurance plans to masking their prices from consumers. As the Wall Street Journal reports:
Dominant hospital systems use an array of secret contract terms to protect their turf and block efforts to curb health-care costs. As part of these deals, hospitals can demand insurers include them in every plan and discourage use of less-expensive rivals. Other terms allow hospitals to mask prices from consumers, limit audits of claims, add extra fees and block efforts to exclude health-care providers based on quality or cost.
Sometimes hospitals will create contracts with insurers that force the insurer to include all facilities in their plans, which can lead to higher premiums for consumers. According to a former insurance executive, even if a hospital's costs are 50 percent higher for the same service, the insurer is forced to include it and subsequently raise premiums, passing the cost on to consumers.
The restrictions in some hospitals' contracts mean "you must always include them," said Chet Burrell, former chief executive of CareFirst BlueCross BlueShield, which offers coverage in Maryland and the D.C. area. "If their costs are 50% higher for the same service, you have to include them. That cost is directly built into premiums…in the end the buyer of the service pays that."
Wall Street Journal's report was based on dozens of interviews with current and former health insurance executives, employer executives, hospital officials, researchers and other experts.
The power of hospital systems and health insurance companies can be immense. Even big employers like Walmart and Home Depot have been unable to lower costs due to pressure from hospitals.
Restrictive hospital-insurer contracts have helped prevent even big employers, including Walmart Inc. and Home Depot Inc., from moving forward with plans they were exploring to try to lower costs and improve quality for their workers.
Due to an increasing amount of consolidation among hospitals, insurers are often forced to include big hospital systems in their plans because they have a monopoly in an area. This leaves consumers with fewer options and higher costs.
"If you're the single hospital system in an area, you essentially can set your price, because you're a monopoly," said Patrick Conway, the chief executive of Blue Cross and Blue Shield of North Carolina. "We literally have to have them in network." Even in a region with more than one hospital system, "if they are the dominant player in part of the geography, they can charge higher rates," Mr. Conway said.
Mergers in the health care sector have been increasing since the implementation of the Affordable Care Act. When it was implemented in 2010, mergers spiked and have remained at that new high level annually to today.
In 2010, the year the Affordable Care Act passed, the annual number of hospital mergers shot up 40% to 59, and the number of deals has remained above 60 every year since, according to Irving Levin Associates, a research firm that tracks health-care transactions.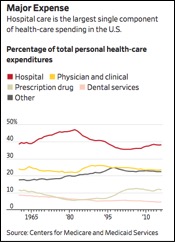 Hospital care is the largest single component of health care spending in the U.S. In 2016, hospitals accounted for over 38 percent of personal health care expenditures. That number is much higher than physician and clinical expenses, prescription drug costs or dental costs, according to the Centers for Medicare and Medicaid Services.
Overall, the United States spends more per capita on health care than other developed nations, and the increasingly secretive way prices are set around the industry allows prices to rise ever higher.
The U.S. spends more per capita on health care than any other developed nation and will soon spend close to 20% of its GDP on health. Americans aren't buying more health care overall than other countries. What they are buying is increasingly expensive. Among the factors driving spending is the opaque way the price of health care is set, a problem exacerbated by the hidden details in agreements between insurers and health-care providers.
Hospital executives pointed to insurers' role in rising costs. Even with consolidation in the hospital industry, they maintain insurers have the upper hand.
"It's the insurers that retain the greatest leverage," said Melinda Hatton, general counsel of the American Hospital Association. 
Insurers accused hospitals of using growing market power to strong-arm other actors in health care on costs.
"No hospital system should be able to exercise market power to demand contract agreements that prevent more competitively priced networks," said Cigna's chief medical officer, Alan Muney, in a written statement provided by the company.