Consumers for Quality Care Urges HHS and CMS to Swiftly Address Threats to Consumers' Health Care
By Consumers For Quality Care, on June 28, 2021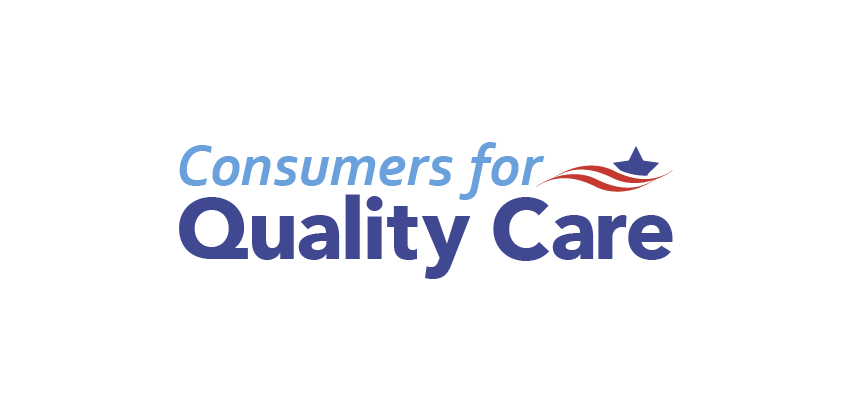 For Immediate Release
June 28, 2021
Contact:
press@consumers4qualitycare.org
Consumers for Quality Care Urges HHS and CMS to Swiftly Address Threats to Consumers' Health Care
WASHINGTON – Today, Consumers for Quality Care (CQC) along with 17 patient and consumer advocacy groups, sent a letter to the U.S Department of Health and Human Services (HHS) Secretary Xavier Becerra and the Centers for Medicare and Medicaid Services (CMS) Administrator Chiquita Brooks-LaSure congratulating each on their respective confirmations and calling for swift action to address policy and regulatory concerns to improve access to affordable, quality care for all Americans.
In its letter, CQC raises concerns around disturbing trends in insurer coverage denials of emergency room visits later deemed non-urgent, junk insurance plans that offer inadequate coverage, and harmful co-pay accumulator adjustment programs. The letter also calls for the continuance of telehealth visit coverage by insurers and pushes for HHS and CMS to improve Medicaid access by removing harmful provisions granted through the waiver process limiting quality, affordable coverage.
Text of the letter to HHS and CMS, signed by CQC and 17 stakeholder groups is below:

Dear Secretary Becerra and Administrator Brooks-LaSure:
Consumers for Quality Care is a group of patient and consumer advocates committed to speaking up for ordinary Americans experiencing challenges in the health care system. We would like to congratulate you on your respective confirmations to lead the Department of Health and Human Services and the Centers for Medicare and Medicaid Services at this critical moment in our nation's health.
We are also writing to express our concerns with policies and regulations that we believe harm consumers and to urge you to take swift action to address these barriers to quality, affordable care.
Coverage for Emergency-Level Care
Patients should never have to face the challenge of self-diagnosing their ailments and determining the appropriate level of care needed in an urgent situation, yet a disturbing trend from our nation's insurers expect patients to do just that. When insurers retroactively deny coverage for emergency room visits that it deems nonurgent, patients may be left with an unexpected financial penalty for a decision made during a critical time of need. Moreover, delaying care, especially during a pandemic, has been found to contribute to adverse health conditions.
We urge the Department of Health and Human Services (HHS) and the Centers for Medicare & Medicaid Services (CMS) to address insurers' decisions to stop paying for nonurgent emergency room hospital visits and ensure that patients can rely on medical experts when they need them most. Those purchasing health insurance expect to receive reliable coverage to meet their health care needs while protecting their interests.
Junk Insurance Plans
As the nation emerges from an unprecedented health crisis which caused catastrophic job loss and financial harm to many, Short-Term Limited Duration Insurance (STLDI) plans – or junk insurance – continue to harm American families.  Consumers purchase these plans believing routine medical care will be covered, but they instead face fine print that can deny care and bankrupt families.
People with STLDI plans often face steep medical bills, discrimination, and other problems receiving care. These flawed plans place several restrictions on coverage and are exempt from many protections under Affordable Care Act (ACA) rules and other provisions governing health insurance issuers.
Even when we are not facing a pandemic, these plans pose a danger to consumers – they do not have to meet minimum standards or cover preexisting conditions, services covered vary widely, and they often impose annual and lifetime maximums.
We ask that HHS and CMS take action to protect consumers from STLDIs. These plans should be eliminated from the market or, at the very least, scaled back so that they only last six months as a short-term option to bridge gaps in coverage. These, and all insurance plans on the market, should also be required to comply with ACA rules and protections that prohibit discrimination based on gender and for people with pre-existing conditions.
Co-Pay Accumulator Adjustment Programs
Many Americans, particularly those with complex or chronic diseases, rely on prescription medicines to manage their conditions. With co-pay accumulator adjustment programs, insurers no longer allow cost sharing coupons for medicines to count towards patients' deductibles or caps on total out-of-pocket costs. This can be devastating to patients, particularly when their coupons run out before the end of the year and they are left with unexpected amounts they cannot afford to pay when they try to fill a prescription at the pharmacy.
In 2020 CMS finalized a rule allowing for the expansion of co-pay accumulator adjustment programs which has led to their proliferation. Reducing the consumer value of cost-sharing assistance has a disproportionate effect on lower-income and vulnerable populations, as well as those with high deductible health plans. The impact is particularly severe for those with chronic conditions, such as cancer and HIV.
We urge you to reverse this harmful provision and protect vulnerable patient populations from this cost-saving practice.
Telehealth
Telehealth services have been vitally important to ensuring continued access to care during the pandemic, as many Americans have been reluctant to visit their doctor's office in-person amid the health crisis. This has been especially significant to vulnerable populations, such as the elderly and patients with ongoing medical conditions.
Research from Consumers for Quality found that 69 percent of Americans would like to continue to use telehealth services even after the pandemic ends, and yet many private insurers have already started  pulling back coverage of these services, rolling back policies that reduced or waived co-pays, coinsurance, deductibles or other fees for telehealth treatments.
We encourage the continuance of no-cost telehealth visits for those with Medicare and Medicaid and we urge regulators to require private insurers to cover telehealth visits to increase access to care.
Lastly, as you evaluate these issues, we also encourage you to continue improving access to Medicaid and removing harmful provisions granted through the waiver process that have severely reduced the quality and affordability of coverage for enrollees.
As this past year has shown, quality, affordable care for all is imperative. We thank you for your attention to these matters and leadership in protecting the health of the American people.
Sincerely,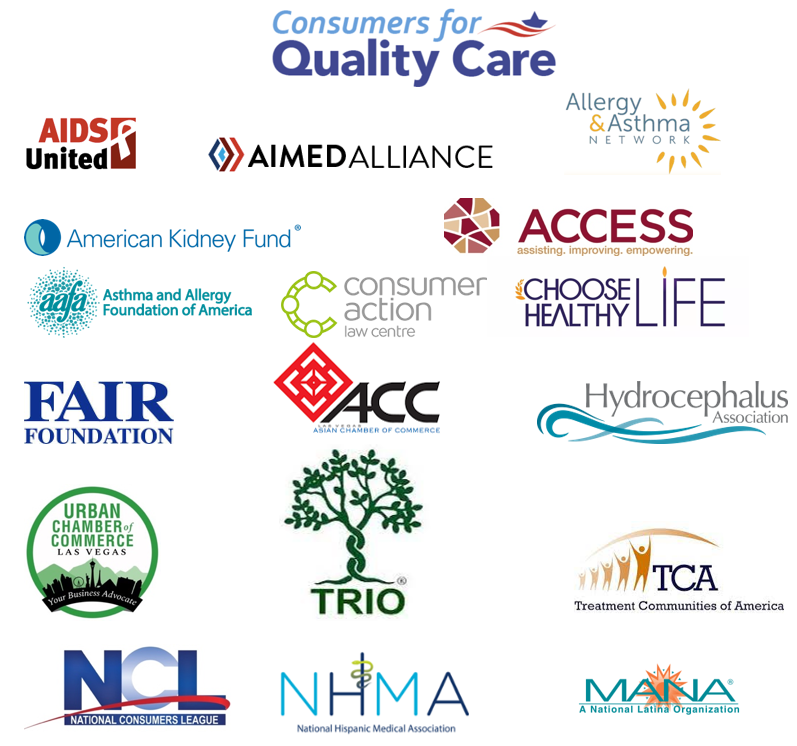 # # #
About
Consumers for Quality Care (CQC) is a coalition of advocates and former policymakers working to provide a voice for patients in the health care debate as they demand better care. CQC is led by a board of directors that includes the Honorable Donna Christensen, physician and former Member of Congress; Jim Manley, former senior advisor to Senators Edward Kennedy and Harry Reid; and Jason Resendez, community advocate and health care strategist.
To learn more about Consumers for Quality Care and the issues consumers are experiencing, visit www.consumers4qualitycare.org