CQC and Partners Call on Blue Cross Blue Shield Association and Members to Retract Anti-Consumer Policies in Light of Record Profits
By Consumers For Quality Care, on January 30, 2019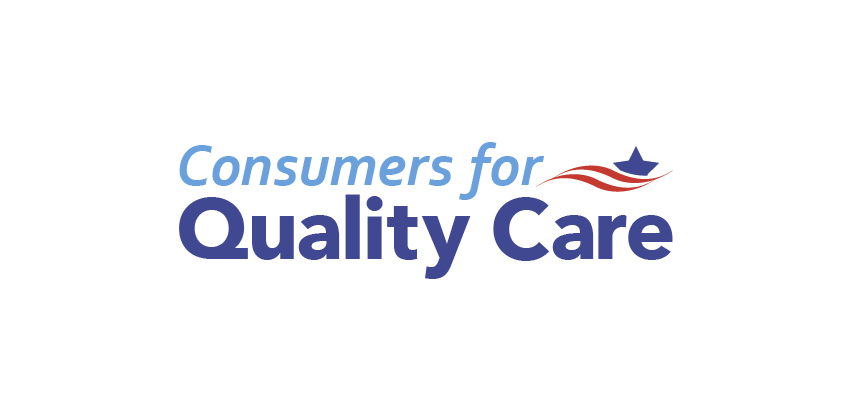 WASHINGTON – In a letter to the Blue Cross Blue Shield Association, Consumers for Quality Care, Patient Power, the Black Women's Health Imperative and MANA, A National Latina Organization called on the association and its member companies to pass on the record profits they have been reporting to the consumers they insure. The groups called on the insurers to retract problematic policies, including emergency room and anesthesia policies, and accumulator adjustment programs, as they all make it harder for consumers to access quality, affordable care.
###
Full text of the groups' letter to BCBSA:
Blue Cross Blue Shield Association
225 North Michigan Ave.

Chicago, IL 60601
January 30, 2019
Dear Blue Cross Blue Shield Association,
Congratulations on the record-breaking profits your companies have been reporting.
In light of this success, we urge your member companies to pass some of these profits onto the people they insure. In particular, we urge Blue Cross Blue Shield plans to walk back policies that have a negative impact on consumers — and directly increase their health care costs. We urge that they immediately rescind harmful emergency room and anesthesia policies which force patients to self-diagnose their health emergencies and put lives at risk, as well as stop the use of accumulator adjustment programs that make it harder for consumers to reach their deductible.
These policies are harmful and impact consumers in a number of states who pay for Blue Cross Blue Shield insurance coverage, but are being hit with surprise medical bills when they use their coverage. A couple examples:
In Missouri, Sandra Rivera who underwent a previous heart operation with some complications went to the emergency room after waking up with chest pain and heart palpitations. Fortunately, she did not have a heart attack, but Anthem sent her a letter informing her this visit would be covered but any subsequent visits with similar symptoms would not be.
In Frankfort, Kentucky, Brittany Cloyd went to the hospital with a fever and strong pain on the right side of her stomach at the advice of her mother, a former nurse, who suggested it might be appendicitis. It turned out Cloyd had ovarian cysts and Anthem denied the $12,596 bill, leaving her to cover the full sum.
Implementation of new accumulator adjustment programs that prevent people living with HIV or people on PrEP from being able to afford their medicine.
In California, patients in need of cataract surgery have been asked to pay $400 out-of-pocket upfront to cover anesthesia services that may not be covered by Anthem.
Thousands of similar issues have been encountered by your member companies' customers, which can jeopardize both their health and their finances. Additionally, patients who are living with chronic diseases are facing surprise increases in out-of-pocket costs mid-year due to the accumulator polices.
The only recourse for consumers is a burdensome and bureaucratic appeals process or being forced to pay unexpected out-of-pocket fees, while those facing accumulators are forced to abandon prescriptions at the pharmacy. Isn't getting sick or injured difficult enough?
A Consumers for Quality Care-Ipsos poll found that Americans are worried more about affording health care costs like the unexpected emergency room bills your member companies have exposed them to, than about costs associated with retirement, childcare and higher education.
It's time all Blue plans, and the Blue Cross Blue Shield Association, put patients first. And now is the perfect time. It is expected Blue Cross Blue Shield plans will report even bigger profits as a result of windfall provisions in the tax bill and the weakening of a legal requirement that guaranteed that insurance companies reinvest at least 85 percent of their profits from premiums back into improving the quality of care for consumers.
As you proudly state on your website, "nearly one in three Americans rely on Blue Cross Blue Shield companies for access to safe, quality, and affordable health care." You and your member companies have the power and the profits to make it more affordable.
As long-time consumer advocates, we ask that Blue Cross Blue Shield member companies do the right thing, and better help the Americans they serve. They should be required to remove the egregious and burdensome barriers to care they have put in place that are restricting patients from getting the health care they need and utilizing the coverage they pay for, often handsomely.
Denials of consumer insurance claims for covered services like ER visits and essential surgical services and failure to cover needed medicines are the very point of having insurance so we encourage you to optimize this moment and put patients first.
Sincerely,
Consumers for Quality Care
Black Women's Health Imperative
Patient Power
MANA, A National Latina Organization