Special Enrollment Periods Allow Some To Still Enroll In A 2018 Health Plan
By Consumers for Quality Care, on December 22, 2017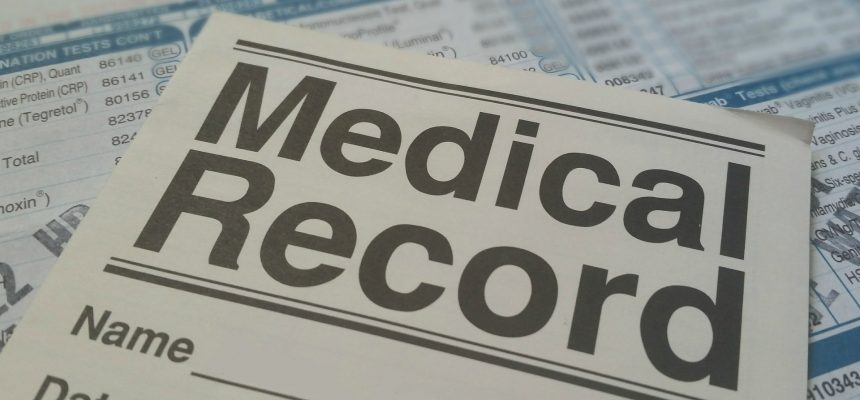 Despite the Affordable Care Act (ACA) open enrollment period ending on December 15, some consumers may still be eligible to enroll in a health plan for 2018. Most residents in states that established their own marketplaces have later deadlines, according to the Kaiser Family Foundation.
State-based Marketplaces (SBMs) have flexibility to set their own dates for open enrollment and this year, 10 of the 12 SBMs have done so: California, Colorado, Connecticut, District of Columbia, Maryland, Massachusetts, Minnesota, New York, Rhode Island, and Washington.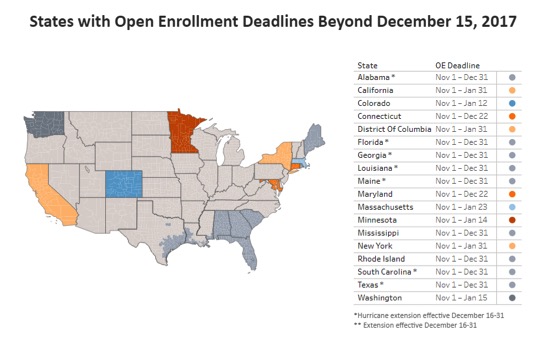 Source: Kaiser Family Foundation
Additionally, individuals that were affected by this year's hurricanes are eligible for a special enrollment period.
Areas designated eligible for Individual or Public Assistance Benefits from the Federal Emergency Management Administration (FEMA) include the entire states of Florida, South Carolina, Georgia, and Alabama, and parts of Texas (53 counties), Louisiana (20 parishes), and Mississippi (7 counties). In addition, all of Puerto Rico and the U.S. Virgin Islands have been designated.
Consumers whose 2017 plan was discontinued for 2018 are also still eligible for enrollment.
Finally, no matter where they live, consumers who received discontinuation notices that their 2017 non-group health plan is not being offered in 2018 (for example, because the insurer exited the marketplace or will no longer offer any ACA compliant non-group plans starting in 2018), are eligible for a "coverage loss" special enrollment period (SEP). These individuals have up to 60 days to sign up for new coverage after their 2017 plan ends (January 1-March 1, 2018); people can also apply for the coverage loss SEP in advance of the coverage loss (e.g., before January 1, 2018).
HealthCare.gov has compiled information on other complex issues that would also qualify for a special enrollment period. These include ineligibility for Medicaid or CHIP, domestic abuse or spousal abandonment, or other exceptional circumstances.
If you think you qualify for a Special Enrollment Period for one of the situations listed on this page, contact the Marketplace Call Center at 1-800-318-2596 (TTY: 1-855-889-4325)

The representative will ask for information about your situation to determine if your circumstances qualify you for a Special Enrollment Period. The representative will help you apply and enroll in coverage.