Telemedicine Increases Care Access For IN Consumers
By Consumers For Quality Care, on September 18, 2019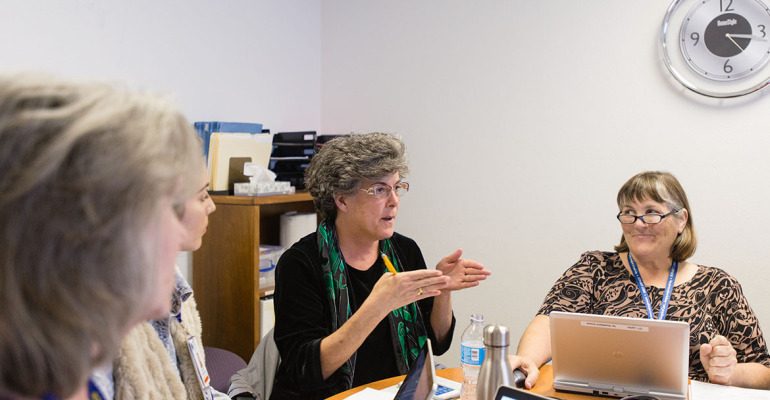 Photo by Heidi de Marco/KHN
Despite mandates in the Affordable Care Act, mental health care parity has continued to be a challenge. Consumers, especially those in rural areas, have struggled to access the mental health care that they need. Now, Indiana's Meridian Health Services is using telepsychiatry to provide consumers greater access to care, NPR reports.
Growing problems with addiction and depression have made the country's shortage of mental health professionals much more acute for rural areas. Geographic isolation exacerbates a vicious cycle. A shortage of doctors means patients can't get timely care. The health system atrophies, and doctor recruitment gets even tougher.
Thanks to the program, which allows doctors to connect with patients over the internet, consumers only have to wait days, not months, for an initial psychiatric appointment. Dr. Sarfraz Khan, Meridian's chief medical officer, says that he believes the program has been lifesaving for Indianans.
The program has also helped Meridian Health Services recruit specialists. While other rural providers struggle to attract talent, the system has tripled its psychiatric specialists, growing from a team of four to a team of 12 over the last several years. Meridian has set up a system of facilities that work with the "hive" in Indianapolis, where it is easier to recruit specialists to work.
Patients drive to a local Meridian office, where a nurse measures their vitals and observes their demeanor, and sits them in front of a computer. On a split screen, the physician appears at the other end of a secure connection.
The program seems to be successful for both consumers and providers.
Patients now have greater access and availability to care. Mariah, who has struggled with anxiety and depression for years, is one consumer who has utilized Meridian's telepsychiatry program. She says that she prefers the program's online interaction to in-person appointments, because this mode of communication allows her to be more honest about her feelings.
Medicare and Medicaid pay higher rates to providers that bring care to underserviced areas, making the program lucrative for Meridian. The program still has a number of positions it is trying to fill in a tight job market. However, the telepsychiatry program has been successful enough that Meridian is looking to apply the model to other areas with staffing problems.
In the past few months, Meridian has been using it to treat patients in emergency rooms, addiction treatment centers and even schools.